When in Mexico, Tacos. When in Morocco, Cus-cus. When in Argentina, Asado.
If you really want to immerse yourself in a culture and experience a country, you start at the table. Food and what happens around it gives you a glimpse into the place and it's people. It teaches you what they value and how to show hospitality. I've lived in four different countries and in the contrast between each of them, the uniqueness in which they approach meals is one of my favorite things.
My family moved to Spain when I was 15 years old and I stayed for 8 years. I once was asked what a Spanish meal was like and my response was this: Water, salad, fresh bread, and wine. I was kind of joking, kind of not. Although that's not all there is to it, these are some of the basic elements that are part of mealtimes in Spain:
a pitcher of cool water,
some lettuce with slices of tomato and green olives drizzled in vinegar and olive oil,
a basket with freshly cut bread and
a glass of wine.
Sounds fancy, huh? Well, let me introduce you to some of , what I consider, their greatest foods!
Salad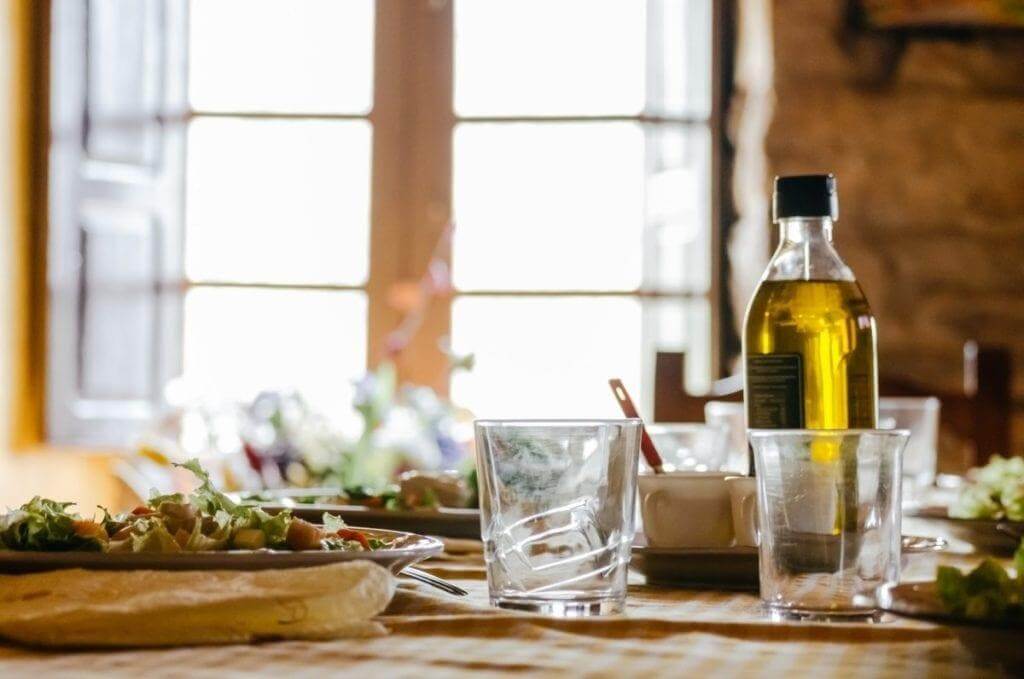 I used to get a little annoyed when at lunch times the first thing served was the salad. I wanted to just skip it and go straight to the main food, "give me the exciting, the flavorful, the delicious…" But now I get excited, as soon as the salad plate is on the table and I am ready to eat it! It is fresh and delicious. Like any other thing, there is a lot of creativity and variety put into the salads they make. One of the most typical Spanish salads is made of lettuce, tomato slices, onions, green olives, boiled eggs and Tuna. All of this drizzled in vinegar, olive oil and a pinch of salt. As you can see, it's easy to make, you should try it! For a salad like this, you can find the recipe here.
Spanish Tortilla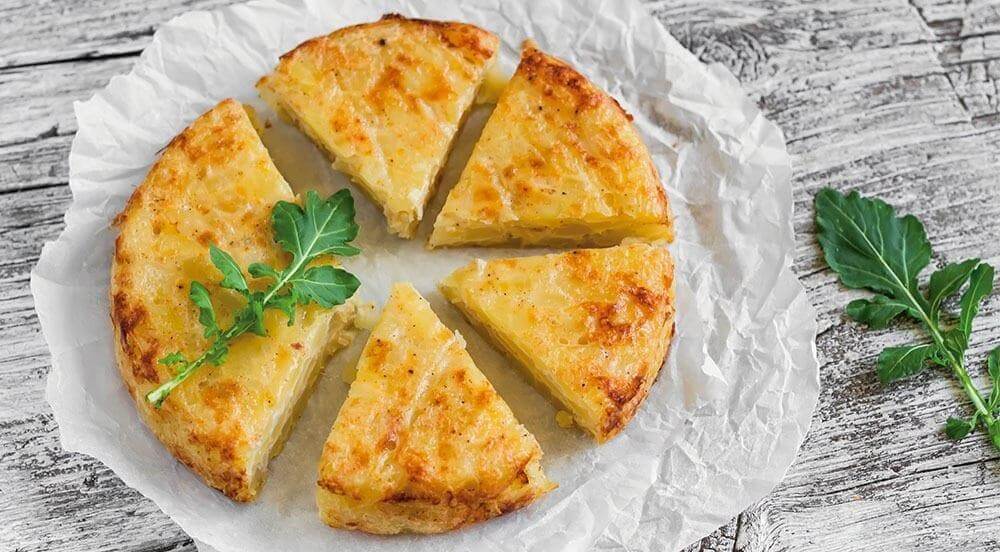 "Tortilla, tortilla, where have I heard that word before?" Although you've probably had a mexican tortilla when eating tacos or burritos, the Spanish version of this is very far from what you would think. Dice some onions, beat a few eggs, add potatoes and voila! It's sort of like a potato omelette but thicker, and in my opinion, more delicious. It might seem easy to put together, but making the perfect Spanish tortilla is an art. You can also add some meat and it ads a little extra. Cut a piece of this and put it on top of a slice of fresh bread and your life could be changed. Here's the recipe for you to try at home!
Tostada Catalana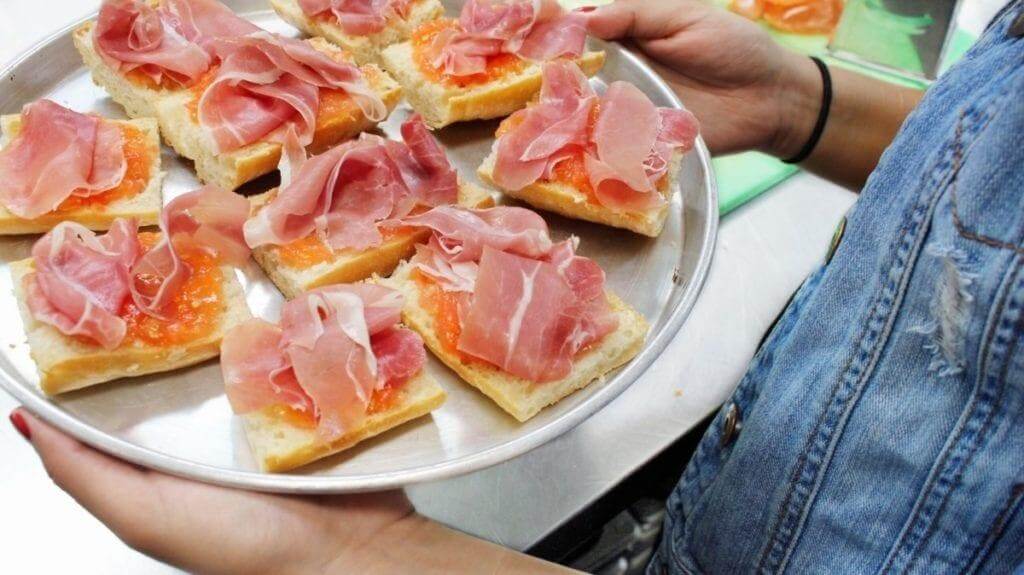 This one changes name depending on where you go, but it's also a staple when you go out to a coffeeshop for breakfast. (side note: Did you know that coffee shops in Spain are normally called bars?) So, don't get scandalized if you're invited to join them at the bar for breakfast– the invitation is family friendly. One of the things they are big in is bread, especially the kind called "baguette" which is actually French but whatever, it's delicious. A Catalana is fresh toasted bread, grated tomatoes (it looks like salsa) olive oil, a pinch of salt and cured ham on top. Some people are taken back because the cured ham looks like raw meat, but hey! Give it a try! You might fall in love forever, or you might not like it at all, and thats ok, at least you were adventurous. THIS, I have to say, is my all time favorite! You can try the recipe here.
Paella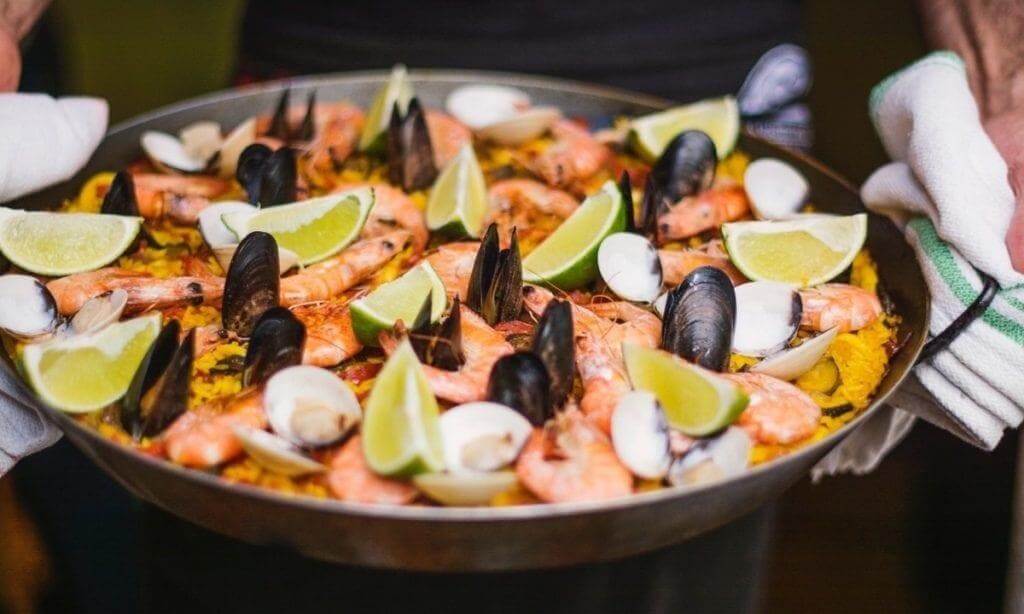 I think this is one of the most known Spanish dishes, and one of the favorites. The versatility that it has makes it as appropriate for a wedding as it is for a Sunday lunch with the family at grandma's house. You might have seen it before, but paella is yellow rice with different toppings. Sometimes its rabbit, sometimes it's chicken, other times it's seafood, and even snails. Whatever the ingredients are, there is one thing for sure: if you choose paella, you're in for an experience. Ready to try it? Check out the recipe!
Café Bombón
If you're used to Starbuck's sizes, especially if you're a Venti fan, you'll be surprised when ordering a coffee in Spain because they'll bring you back a relatively small cup. In the case of the Cafe bombon, it's an ever smaller cup, and there is a reason for that: in this coffee, almost half of the cup is sweet condensed milk and the rest is espresso. After the typical "siesta time" (the traditional spanish nap around 3 pm), you can pick one of these up and it will get you ready for the afternoon. They are delicious, but be careful to not have too many of these or you'll be running around with a little too much energy. Interested? Try this quick recipe here!
The flavors, colors and variety of the food in Spain is something worth diving into. But more than the food, which will make your tastebuds dance, the laughter that happens around meal times is what makes the whole experience something to remember. So wether you are planning a trip to Spain, or simply feeling a little adventurous, get together with some friends and enjoy the delights of Spanish cuisine! ¡Que aproveche (enjoy)!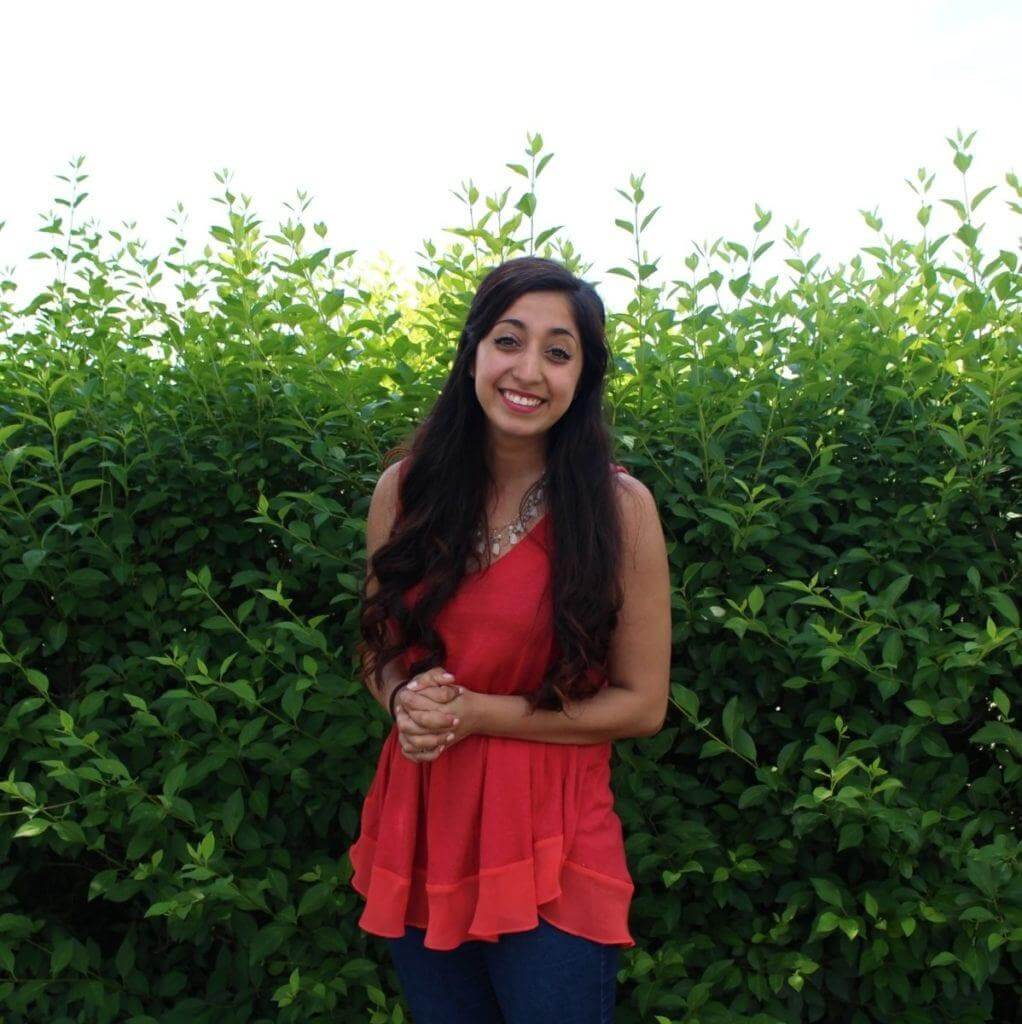 ---
Gail is a gentle sunbeam, bringing warmth and beauty to those around her through joyful creativity and deep relationship. She's a worshiper through and through, whether it's writing songs that honor Jesus, delighting in his creation with her photography, or celebrating what God has done in the people around her. Gail has many talents, but she's quiet about it, so you might have to bribe her with Chick-Fil-A to get her to show them off.